Few people are lucky enough to be born with perfect teeth. But even fewer continue that luck once the baby teeth fall out. Over one-third of Americans admit to being unhappy with their smiles, and those feelings often begin during adolescence. Braces are rites of passage for many kids and the suggested age for that treatment is usually between 10 and 14. It's hard to pinpoint how many kids undergo orthodontic treatment, but the American Association of Orthodontists reports at least 4 million Americans are wearing braces at any given time. Braces aren't right for everyone and they're certainly not the only option for orthodontic correction. Invisalign teen can be a great solution as an invisible way to get straighter teeth. But what are some things parents need to know about Invisalign teen?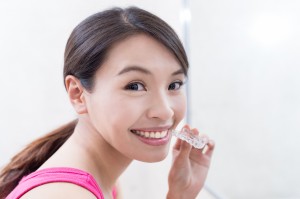 Invisalign Offers More Freedom than Other Orthodontic Options
The Invisalign treatment includes aligners that are removable for eating, drinking, and cleaning purposes. Orthodontic work can be expensive and become damaged if mistreated or taken care of incorrectly. Kids with braces are restricted from enjoying certain foods and even playing sports and instruments in some cases. Protective mouth guards can't be used with braces. However, Invisalign allows the patient to eat whatever they like in moderation and even play sports and engage in band or music lessons with certain simple adjustments.
Invisalign Needs to Be Worn Most of the Day
Braces are a permanent solution during the time they're worn, but Invisalign can be removed. That doesn't mean there aren't rules to getting the most out of the treatment. Invisalign teen aligners have to be worn at least 20 to 22 hours per day. Invisalign Teen aligners have little blue dots on the molar impressions to indicate they're being worn correctly. As the treatment time advances, the dots fade similar to toothbrush stripes. That way, the users, parents, and your Red Bank dentist can track compliance and progress.
Invisalign Can Be Just as Effective as Braces, But There Are Limits
Invisalign is a completely customized treatment plan. And when the specific patient rules are followed to a tee, Invisalign can be just as effective as braces. Most common issues are easily treated by both options, but Invisalign does have some limits. Invisalign is not a good fit for people with existing bridgework. And those with serious malocclusion such as back bite issues, tooth lengthening needs, or twisted or rotated canines and incisors require more intense cosmetic dentistry or orthodontic options. Still, Invisalign teen can help repair most issues without worry as long as the treatment is followed correctly.
Invisalign Can Greatly Improve Your Teen's Confidence
According to research, almost a third of teens are seriously self-conscious about the condition of their teeth. But confidence issues extend to other areas of their body in approximately 96% of those cases. Traditional braces tend to have a negative impact on peer pressure-related confidence issues. But that's not an issue with Invisalign. The clear aligners are the invisible way to get straighter teeth which means teens can laugh, smile, and even engage in social activities and pictures without feeling the need to shy away. Your Red Bank dentist can help determine if Invisalign Teen is right solution for your kids.