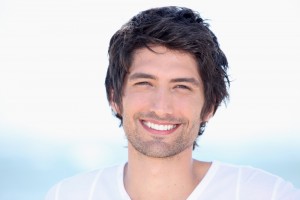 Summer's in full-force and that means your smile has likely been on display for better or for worse. If you feel the latter is more likely, join the club. Almost one-third of Americans refuse to smile in pictures due to the condition of their teeth while over 80% feel their smile keeps them from being attractive enough to be tagged in pictures. Life's too short to be that unhappy, especially when it's so easy to obtain a stunning smile makeover. But what options can fit your needs for a much-needed summer confidence boost?
 Professional Tooth Whitening
Anyone can pick up an over-the-counter home whitening kit at their favorite box or discount store. But to see real results the process often needs to be repeated continuously, and in many cases that just eats through the buyer's budget and enamel. Professional teeth whitening is the most popular cosmetic procedure for several reasons. The procedure is quick enough to see dramatic results in as little as an hour. It's non-invasive so there are no discomfort or post sensitivity issues to worry about. And the process is completely customizable, so whether you have two or twelve shades to lose, your Manhattan Cosmetic Dentist can easily tackle the job.
Porcelain Veneers or Cerinate Lumineers
If you think your favorite celebrities or reality stars were born with perfect smiles, think again. Porcelain veneers are generally the go-to solution for the red carpet crowd. While the average American doesn't have the luxury of having on-call beauty teams, they can still easily get the smile makeover solution of their dreams within a few office visits. Porcelain veneers are thin shells that are customized to fit right over your existing teeth. The solution is invasive as a small amount of enamel needs to be removed during the fitting process. However, if that's a concern, Cerinate Lumineers can potentially fit the bill. At about half the width of veneers, these shells are often just as strong and durable. And since they are so thin, no enamel needs to be removed in most cases… which means they're non-invasive and reversible if you have a change of heart later.
Cosmetic Tooth Bonding
There are few solutions that can match the effectiveness, ease, and affordability of tooth bonding. This option corrects multiple issues including cracks, chips, discoloration, and jagged or misshapen teeth. The non-invasive procedure is usually completed within a single appointment and only requires light sanding of the enamel for the tooth or teeth in need of repair. The tooth is then covered in a conditioning agent, brushed with tooth-colored resin, the resin is cured, and the repaired tooth is sculpted to match its original state. A final polish completely restores the tooth or to its natural beauty.  
Invisalign
If you have the time and desire to permanently repair your dental concerns but want to avoid traditional braces, Invisalign may be the clear solution for your stunning smile makeover. The crystal-clear aligners are custom designed to fit over your existing teeth and help them realign to correct multiple orthodontic issues. Unlike braces, Invisalign can be removed for meals, snacks, and cleaning needs, so there's far more freedom with this treatment option. And since there are no metal wires or brackets involved, your smile will shine through all summer long. Contact your Manhattan Cosmetic Dentist to discuss which smile makeover solutions would best fit your needs.