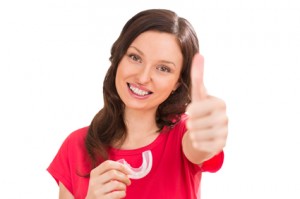 According to the American Association of Orthodontists (AAO), over one-third of American adults dislike their smiles for some reason. Almost 50% of adults remove social media photo tags, and close to 25% blame their smile for a disappointing or lackluster social life. And on top of that, nearly 80% of American adults connect a crooked or unattractive smile with being professionally unsuccessful. While that's simply projection and opinion, the truth is someone's opinion is often the only thing standing between remaining stagnant or advancing in life. Cosmetic dentistry offers an array of solutions to improve confidence and increase chances for success. Porcelain veneers and Invisalign are among the most popular and effective solutions to improve your smile. But how do they differ and which option is best for your needs?
 What's So Special About Porcelain Veneers?
Anyone can have the appearance of perfect teeth thanks to porcelain veneers. This procedure is the not-so-secret celebrity solution for Red Carpet-ready smiles. Whether you have gaps, misalignment, chips, cracks, bite issues, or bad stains, porcelain veneers can quickly give you the smile of your dreams. These wafer-thin porcelain shells are custom made to each patient's specific needs and desires. A couple appointments are usually enough to get the smile of your dreams with porcelain veneers. The dentist will discuss the patient's needs and virtually prepare the shells during the first appointment. And the follow-up appointment will be scheduled to approve and affix them. The veneers are lab created between appointments. Porcelain veneers are somewhat invasive as the dentist must remove a small amount of enamel from the affected teeth to affix the shells. Therefore, they're an irreversible procedure. Veneers tend to be more stain resistant than natural enamel, but heavily pigmented food and beverages can discolor the materials over time. However, if they're taken care of properly porcelain veneers can last up to a couple decades without any issues or replacement concerns.
What's So Special About Invisalign?
Like veneers, Invisalign is an aesthetic solution to multiple dental concerns. But Invisalign does far more than simply mask or cover the problem. Like braces, the clear aligners help straighten teeth over time and correct moderate to serious issues such as gaps, bite issues, overcrowding, and misaligned teeth. But unlike braces and veneers for that matter, Invisalign aligners are clear. Custom designed for the needs of each individual patient, the aligners are worn at least 22 hours each day and only removed for meals and snacks. And like traditional braces, Invisalign can take several months or years to correct the orthodontic issues. Unlike veneers, an Invisalign patient can opt out of the procedure if they suddenly change their mind. But if they use the aligners correctly, their patience will be rewarded with a beautiful new smile.
What's the Best Solution?
The best solution is completely subjective and should be based on each patient's specific needs and desires. If your dental issues are primarily visual issues such as gaps, stains, cracks, or chips and you want to improve your smile quickly, porcelain veneers may be the best choice. But if your teeth can be straightened, you have time to devote to that cause, and you'd like to save some money in the process, Invisalign can be the clear solution. A call to your Fort Lauderdale cosmetic dentist can help you make the final decision and get the smile you deserve.