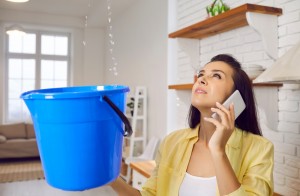 A leaky roof can quickly lead to other structural problems and not only depreciate the value of your home but also result in potential injuries to those who live within. Detecting a roof leak early is crucial to prevent further damage to your home. Let's discuss five potential signs that may indicate a roof leak.
Water Stains on Ceilings or Walls
Trapped, flowing, or stagnant water inside walls can create havoc for your entire structure and potentially lead to health risks for its inhabitants. Look for discoloration or water stains on your ceilings or walls. These stains may appear as yellow or brown spots and often indicate water penetration from a roof leak.
Dripping or Water Sound
The sound of water droplets is normal outside, but inside, it can be a disaster. If you hear dripping sounds or notice water dripping from the ceiling during or after rainfall, it's a clear indication of a roof leak. Investigate the source of the leak promptly to prevent further damage.
Mold or Mildew Growth
Industry experts debate just how serious mold is in a home, but most agree black mold is the most concerning type. Nonetheless, any type of mold spores can create respiratory problems or escalate existing health concerns. Excessive moisture from a roof leak can create a favorable environment for mold and mildew growth. If you notice a musty odor or see signs of mold or mildew on walls or ceilings, it may indicate an ongoing roof leak.
Buckling or Curling Shingles
Shingles can be aesthetically pleasing, but they also act as barriers to weather and debris. Shingles also need regular maintenance for that very reason. Unfortunately, it's not always easy to tell what caused the damage until they're removed or inspected properly. If you're unable to access your roof and inspect it properly yourself, always call a professional roofing contractor to do it. The inspection isn't free, but it will give you insight into the condition of your roof. Damaged or deteriorating shingles can allow water to penetrate through the roof. If you or someone else can perform the inspection yourselves, look for shingles that are buckled, curled, cracked, or missing. These issues can compromise the integrity of your roof and lead to leaks.
Damaged Flashing or Roof Valleys
Flashing refers to the metal strips used to seal joints and transitions on the roof, such as around chimneys, vents, or skylights. If the flashing is damaged, loose, or missing, it can create openings for water to seep into your home. Similarly, roof valleys, which are the areas where two roof slopes meet, can be vulnerable to leaks if they are damaged or improperly sealed.
Any of the above signs can lead to weakening and decay throughout your home. So, If you observe any of these signs, it's essential to address them promptly by contacting a professional roofer contractor. Give us a call to survey the situation. We can identify the source of the leak, and recommend the necessary repairs to prevent further damage.