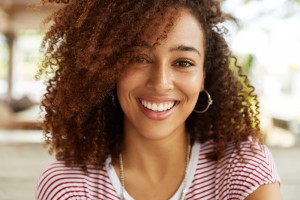 Cosmetic dentistry has come a long way, and there are several options for just about any dental aesthetic or corrective need you may have. Porcelain dental crowns are a common dental restoration that can fix several dental problems. Moreover, they're among the least expensive solutions. But what can a porcelain dental crown fix? 
Cracked or Chipped Teeth
A cracked or chipped tooth may seem like nothing at first. But over time, simple daily tasks like eating or drinking can cause those cracks and chips to worsen. In some cases, a chipped tooth can turn yellow or brown from consistent dentin staining. That can cause anyone to hide their smile. But a porcelain dental crown can restore the structure and function of a cracked or chipped tooth. The crown covers the damaged tooth, protecting it from further damage and restoring its appearance and function.
Stained or Discolored Teeth
Everyone eventually deals with dull, yellow, or discolored tooth enamel at some point. Food choices, vices such as alcohol or smoking, and even certain medications can discolor your teeth. Some foods and habits can result in deep staining that even a professional dental cleaning can't repair. But porcelain dental crowns can be used to cover stained or discolored teeth, improving their appearance and restoring a natural-looking smile.
Broken or Fractured Teeth
Whether from an accident, sports injury, or untreated crack or chip, broken or fractured teeth can cause dental anxiety and drain your confidence. Porcelain dental crowns can be used to restore a broken or fractured tooth, providing support and protection for the tooth and restoring its function.
Tooth Decay
Tooth decay is caused by various bacteria that thrive in conditions of poor dental hygiene. These bacteria strains may feed on plaque, existing food between your teeth, and the sugary or otherwise sweetened snacks and drinks consumed regularly. Before you know it, that decay has eaten through your enamel and weakened your teeth. A porcelain dental crown can be used to cover a tooth that has been damaged by decay, providing a protective barrier and restoring the tooth's function. 
Tooth Loss
Approximately 36 million American adults are completely edentulous, and 120 million adults are missing at least one tooth. Tooth loss can be the result of several issues, but 70% of missing teeth are a result of advanced or untreated gum disease. At some point, a missing tooth will need to be professionally treated and restored to avoid extensive dental issues. Porcelain dental crowns can be used as part of a dental implant restoration to replace a missing tooth. The crown is attached to an artificial tooth root that is placed in the jawbone, providing a permanent, natural-looking replacement tooth.
 Contact us to talk to a competent and experienced cosmetic dentist in Chandler, AZ about your dental needs or repair concerns. But if time and cost are issues, porcelain dental crowns are versatile, time-efficient, and affordable dental restorations that can address multiple dental problems and improve the function and appearance of a patient's smile.