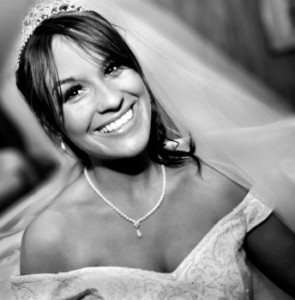 Every marriage-bound couple dreams of a flawless wedding day, but getting there can be quite the adventure. There is no right or wrong way to plan your perfect day, but the average wedding in America costs around $28,000. That includes food, entertainment, and all the incidentals to capture your dream day in the hearts of everyone in attendance for hopefully the rest of your lives. Whether you're the bride or groom, all eyes will be on you at one point or another… and for years to come thanks to the wedding photos. However, all the planning, hopes, and dreams for that one special day can be crushed in an instant the second the photographer tells you to say cheese. Your Manhattan cosmetic dentist can help ensure your smile is as ready for the big day as you with one of the following procedures.
 Anyone can pick up a home whitening kit just about anywhere nowadays. But while those shiny boxes make huge promises, few actually deliver on those. Home kits are designed as one-size-fits-all solutions, but since everyone's different how can that work? In fact, since boxed home kits only deliver one to two shade differences on average, you may feel the need to repeat the process over the course of several months just to notice any real difference at all. That, however, can lead to other problems such as weakened enamel, sensitivity, and mouth sores. Professional teeth whitening, however, is custom designed to fit the needs and desires of each patient. Just a one-hour appointment with your Manhattan cosmetic dentist can lighten, whiten, and brighten your teeth up to 8 shades. And the results last for far longer than over-the-counter options.
 The average engagement lasts 14 months before the nuptials take place. That's plenty of time to get your teeth picture perfect. While traditional braces may be off-limits for multiple reasons, Invisalign may fit the bill. Invisalign is the clear solution to several moderate orthodontic correction needs, including gaps, misaligned teeth, and bite issues. In many cases, Invisalign takes less time to complete the corrections than traditional braces. And unlike the metallic option, Invisalign is practically invisible and offers far more freedom. So even if you're still in mid-treatment by the time of your wedding day, go ahead and eat those gooey treats or wedding cake. And smile freely without worrying about your dental progress being the highlight of the day.
 If you're in a hurry and can invest in a quick smile makeover, porcelain veneers can make you ready for your close up in just a couple dental visits. Porcelain veneers are the celebrity secret for perfect smiles, and they can easily be yours as well. The wafer-thin porcelain shells are custom-designed and fitted to ensure a natural, seamless appearance that will leave your guests wondering if you were born with perfect teeth. Porcelain veneers are an irreversible procedure as some enamel needs to be removed to affix the shells. But they're a quick solution, generally requiring just a couple visits. And when taken care of correctly, they can last well over a decade without any major issues. Call your Manhattan cosmetic dentist when you're ready to get the perfect smile for your big day.