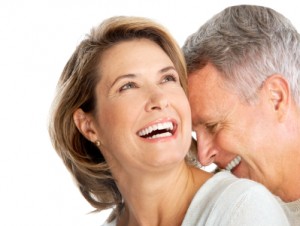 Poor dental hygiene and care not only leads to premature aging, but it can also lead to several potentially serious health issues. According to the American Dental Association (ADA), just a few generations ago, middle age was associated with serious tooth loss for most Americans. Fluoride, better dental hygiene, and more dental care options helped slow and even reverse that trend in many states. But still today by the time women, specifically, reach the age of 40 or 50 serious changes in their teeth occur. Top teeth become shorter while the bottoms lengthen. Gums begin to recede, and bone density weakens, leaving the jawline to shift and often concave inward. But it's never too late to get the smile you deserve. In fact, your Manhattan cosmetic dentist can give you a brand new smile in just two visits thanks to Lumineers. 
 Lumineers Correct Multiple Dental Concerns
It's no secret dental work can be quite expensive and nerve-wracking, especially if you need to correct multiple issues individually. Cosmetic dentistry is specifically meant to provide aesthetic solutions to improve your smile and overall dental health. Gaps, chips, cracks, and deep stains are some main reasons people opt to visit a cosmetic dentist. And there are plenty of options to correct each issue. However, if you have several at once, Lumineers can easily cover and correct them all simultaneously.
 Lumineers Are Non-Invasive and Reversible
 Traditional porcelain veneers are somewhat invasive because the dentist needs to remove a small amount of enamel from each affected tooth. This ensures the porcelain shells affix properly to the teeth. As such, local anesthesia and numbing agents are often required as well. That's not an issue with Lumineers. While porcelain veneers are around the width of a contact lens, Lumineers are around half that width. The thinner shells are easier to affix and require no anesthesia or medication. That translates to no potential medication side effects and no unexpected, unnecessary, or painful recovery issues. And because no enamel needs to be removed during the treatment, Lumineers can be reversed or removed if the patient changes their mind down the road or opts for another dental solution.
Lumineers Are Efficient and Convenient
Lumineers are digitally created and constructed, so the patient can see exactly how they'll look once the treatment is completed. Made of Cerinate porcelain, Lumineers are only about 0.2 millimeters thick, so there are no concerns regarding discomfort or a bulky appearance. And just like traditional veneers, Lumineers allow you to get a beautiful new smile in just two visits.
Lumineers Are Durable
Don't let the thin construction of Lumineers fool you. They're far tougher than they may look. The special dental-grade porcelain and chemical composition help to resist leakage and cracking better than traditional porcelain veneers. And as for durability, with proper care and maintenance, your Lumineers may easily last around 20 years which is actually longer than the average lifespan expectations of traditional veneers. Give your Manhattan cosmetic dentist a call when you're ready to see if Lumineers are right for you.