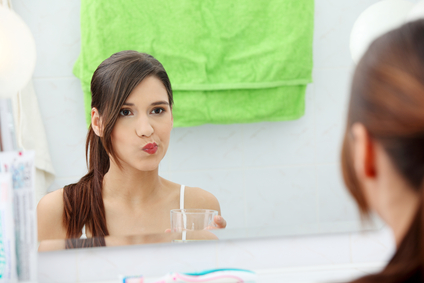 Human teeth can exert over 200 pounds of pressure from a single bite. Teeth are, in fact, the strongest substances in the human body. But they're certainly not impenetrable. It's quite possible to potentially live a full life without any dental damage. But chipped and broken teeth can occur from simple lifestyle habits and mistakes such as chewing on ice or engaging in sports without the right protective gear. Fortunately, your Midtown Manhattan Dentist can easily repair your chipped or broken teeth with the following three options. 
The quicker a damaged tooth is tended to, the easier the repair usually is. If a simple crack or minor chip occurs, dental bonding can correct the damage quickly and easily. In fact, dental bonding is often the quickest and most affordable solution for lightly to moderately damaged, cracked, or broken teeth. The entire process only takes up to an hour per tooth, and it's minimally evasive since only a light sanding of the enamel needs to be done to apply the conditioning liquid. After applying the resin, bonding, shaping, and polishing are complete, the repaired tooth is ready for action.
If a cracked or chipped tooth is severe or contains a hole, a porcelain crown may be needed as opposed to simple bonding. A crown is basically a prosthetic cap used to repair a weakened or fractured tooth. This procedure can also sometimes be completed within a single appointment, but they are usually more expensive than dental bonding. A temporary is often required as the permanent crown is created, so the treatment usually takes two office visits.
The first appointment involves shaping and sanding the damaged tooth, taking necessary impressions to create the final replacement, and applying the temporary crown. During the second appointment, the permanent crown is fitted, bonded, and polished to provide a functioning new tooth. By the time you leave the office, it's like nothing ever happened. When taken care of and maintained correctly, a porcelain crown can last at least 5 years, and potentially upwards of 15 years, without needing to be repaired or replaced. 
Porcelain veneers are cosmetic alternatives for those who want the convenience of a perfect smile without the restorative worries. These wafer-thin porcelain shells affix directly to existing teeth to cover and conceal multiple issues, including cracks, chips, fractures, gaps, stains, and crooked teeth. Minimally invasive, the procedure usually takes a few office visits to complete and requires sanding down some of the enamel to properly fit the shells onto the teeth. Therefore, porcelain veneers are not reversible. They're also the more expensive option of the listed repair solutions for chipped or broken teeth. 
Porcelain veneers are an investment that often pays for themselves. When maintained correctly, traditional porcelain veneers are durable enough to handle life needs and provide your dream smile for up to 15 years without the need for repair or replacement. Of course, if you'd prefer no-prep veneers such as Lumineers or Snap Ons, your Midtown Manhattan Dentist can provide that solution as well. Give us a call to see which option works best for your needs.