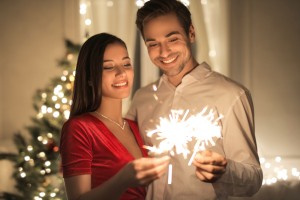 As the holiday season heats up and starts to come to a close, thoughts of New Year's resolutions spring forth. Annual goal makers tend to have the best intentions and approach the new year wearing rose-colored glasses and sometimes even blinders. But according to a recent study, however, fewer than 75% of resolutions were actually kept or achieved for the previous year. A lot of that has to do with the type and difficulty level or amount of goals made early on. Personal improvements are often right at the top of the resolutions list. And while weight loss and financial improvements are often top dogs in that race, expected numbers rarely materialize. Fortunately, there are some simple resolutions anyone can make and achieve, and some of the most effective and positive life improvements begin with a visit to your New York City Cosmetic Dentist and a combination of dental procedures known as a smile makeover. But what options may be best for you?
Professional Teeth Whitening
Whitening and brightening the teeth is one of the easiest, quickest, and most affordable ways to make a major difference in your appearance. The sheer number of tooth strip and bleaching kits on the market attest to that fact. But these one-size-fits-all solutions are more often than not anything but. Minimal amounts of lightening solution or potentially dangerous chemicals can lead to overuse and even extensive damage to gums and enamel. Your New York City Cosmetic Dentist can customize a whitening plan to your specific needs and have you leaving the office an hour later with a brighter and more attractive smile without potentially causing more trouble in the process.
Crowns and Bonding
Sports or rough play, vices, and even eating the wrong foods or chomping on a hard item can lead to cracked enamel as well as jagged, discolored, chipped, or fractured teeth. The good news, however, is that these issues can be easily repaired and your teeth can look better than ever. Porcelain crowns can be molded and affixed to fit on top of moderately to severely chipped or broken teeth. And if your cracks or chips are new, minimal or moderate, bonding may be easier and just as effective. Bonding requires minimal prep time, it's non-invasive, and it involves dental resin and curing lights to create a molded and polished finish comparable in strength and appearance to the original teeth. 
Composite Fillings
Anyone at any age can get cavities, and most Americans do at some point. Cavities can be reversed and avoided if caught quickly enough, but once discolored spots, serious tooth pain, and holes in the teeth are noticed, dental care and treatment are imperative. Fillings may be required at that point, but long gone are the days of amalgam and silver filling requirements that all too often lead to hiding your smile and future health concerns. Avoid the mercury trap and opt for tooth-colored composite fillings that will stop the decay and enhance the natural beauty of your smile.
Porcelain Veneers or Lumineers
If an instant dream smile is the ultimate goal, porcelain veneers or Lumineers can be the way to achieve your dream smile makeover within just a couple dental visits. Veneers are porcelain shells about the width of a contact lens that fit directly over existing teeth. They're minimally invasive and an irreversible procedure since some enamel must be filed away to affix the shells. Lumineers, however, are thinner and usually require no extra prep or filing, so they can be reversed if necessary. Give us a call when you're ready to discover how your New Year can shine with the right smile makeover.