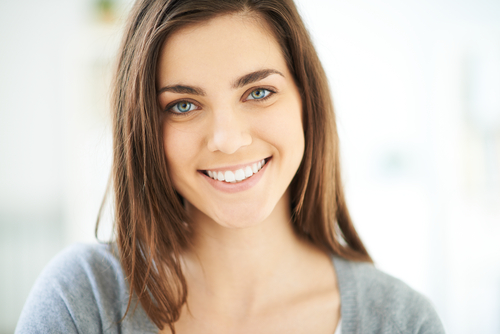 Teeth are incredibly resistant to life demands, but they're certainly not impenetrable. Enamel is the strongest substance in the human body, even stronger than bone. And the average human bite amounts to 200 pounds of pressure. That's why if you bite the inside of your mouth or tongue… ouch! You're going to remember it. But even with all that strength, teeth can still crack or chip easily if you're not careful. Fortunately, dental bonding can fix a chipped tooth easily and effectively. But why should you opt for dental bonding?
Dental Bonding is a Customized Solution 
Dental bonding is a simple treatment that uses tooth-colored resin to reshape damaged teeth and restore them to their original beauty and functional state. Artistic ability and experience are required to provide the best results and your Moorestown Dentist is up to the task. Resin will be carefully dyed to match your existing teeth and molded to perfectly conceal and correct the damage. The final result will be a functional tooth that only you and your dentist will ever have to know was ever chipped. 
Dental Bonding Is Quick and Affordable
There are a handful of options when it comes to repairing dental damage. However, price can play a huge part in which works best for your needs. Dental bonding is the most affordable solution for repairing a moderate-to-severely cracked or chipped tooth. Unlike veneers or implants which can cost a couple thousand of dollars per tooth, dental bonding can be completed for just a few hundred dollars per tooth. The entire treatment can be completed within a single dental visit as well, saving worry and stress along the way. 
Dental Bonding Is Durable
Dental bonding is made of high-grade resin, but it's light-cured which significantly increases its strength. While damage can occur if you're not careful, modern dental bonding materials are still incredibly strong and durable. When cared for and maintained correctly, the dental bonding on your repaired tooth or teeth can last up to ten years without needing to be repaired or replaced tooth or teeth. That's a pretty impressive return on your initial investment, regardless of how you look at it.
Dental Bonding Is Easy to Maintain
More extensive and expensive dental treatments often contain materials that resist decay and stains. But that adds to the overall cost and treatment time as those materials still need to be customized and molded. Dental bonding is durable and provides a beautiful and functional solution to many dental issues, including chipped or cracked teeth. However, the bonding materials and adhesive are not stain resistant. Of course, neither is your natural enamel and yet that can remain beautiful with proper maintenance. The same is true with dental bonding.
Proper oral health habits are essential regardless of which treatment you choose for your dental needs. Brushing twice a day with a soft brush, flossing once, and visiting your Moorestown Dentist twice a year for cleanings and checkups will keep your dental bonding strong, healthy, and beautiful for years to come.