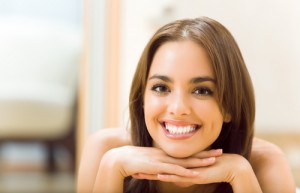 It's no secret that Americans prioritize aesthetic beauty. According to one nationwide poll, almost 60% of adults surveyed admitted to hiding their face while smiling due to self-perceived dental or smile flaws. That percentage wasn't even across the board, however, as over 60% of adults between the ages of 25 and 44 felt uneasy when laughing compared to only 20% of adults over the age of 45. In countless studies nationwide, teeth are repeatedly the leading facial cause of insecurity and peer pressure as well as demanding, if not impossible, modern beauty standards ensure those confidence issues won't change anytime soon. Fortunately, practically anyone can obtain the smile of their dreams with cosmetic dentistry procedures such as porcelain veneers. But how does cosmetic dentistry really boost your self-confidence?
Cosmetic Dentistry Can Improve Your Appearance
The most obvious was dentistry can help with confidence is by improving your appearance. Whether you have crooked teeth, chips or fractures, gaps, bite issues, stains, or missing teeth, the right cosmetic dentistry treatment can give you a brand new smile. Anything from professional teeth whitening to porcelain veneers and even dental implants can improve your appearance, reverse aging, and give you a new lease on life as your regained confidence soars.
Cosmetic Dentistry Can Improve Your Social or Romantic Life
Most people are not only drawn to positive emotions in others, they often mimic or reflect those emotions upon witnessing them firsthand. And a smile alone is extremely cathartic and contagious. But it's not just any smile. Studies have proven that a Duchenne smile, the type of smile that lifts the cheeks and reaches the eyes, is the most common indicator that someone is authentically happy and sincere in their positivity. And that type of smile is almost addictive to others. A forced smile is obvious, but the right dental treatment can help you achieve a stunning smile you'll be proud to show off.
Cosmetic Dentistry Can Increase Your Professional Potential
According to ongoing studies, first appearances can mean everything. And that doesn't just relate to social and potentially romantic situations. As unfair as it may seem sometimes, attractiveness is important in life and that often translates to work as well. Professionalism and ability to perform the tasks of the job always are paramount, of course. However, in a well-known and heavily cited national Invisalign survey, almost 60% of Americans equated straight teeth with professional success and financial wealth. And almost 75% of Americans admitted to being more likely to offer or trust a good job or company position to someone with an attractive smile. The right treatment, such as porcelain veneers, can help give you a significant boost on your ladder to success.
Cosmetic Dentistry Can Help You Overcome Trauma
The average American smiles 8-20 times per day, and that can be far less when you're unhappy with your teeth. But the act of smiling isn't just a lovely way to greet someone or react to a positive situation. Habitually smiling is also a psychological tool that spike dopamine production in the brain and increase endorphins that act as natural pain killers. Moreover, smiling can change the brain's reaction to previously experienced trauma such as PTSD. So while the sufferer will still recognize the memory as a negative experience, the brain will adjust the emotional reaction and judgment to those memories based on the power behind the facial feedback. Give your Johns Creek Dentist a call to discuss your options for boosting confidence once and for all with cosmetic dentistry.