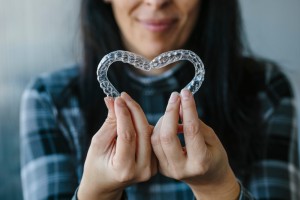 According to Humana, over 4 million people wear traditional metal braces. While that's often seen as a rite of passage for adolescents, it may be surprising to know that approximately 25% of adults wear traditional braces. Now, there's nothing wrong with wearing traditional metal braces, and they're sometimes recommended for specific orthodontic issues. However, there are reasons many people prefer and love Invisalign over other options. 
No Off-Limit Foods 
A good orthodontist will give a patient with traditional braces a long, detailed list of off-limit foods. These foods include sticky sweets and treats. But they can also include popcorn, ice, chips, hard veggies, and corn on the cob. There are no food exclusions with Invisalign. Your dentist may suggest limiting sweets and other sugary or acidic treats to maintain good dental hygiene. But if you want to indulge once in a while, go for it! 
Maintenance Is a Breeze 
Invisalign aligners are custom-made to fit snugly against the patient's teeth. But that doesn't mean food and bacteria won't still get in the aligners. Therefore, it's essential to remove them for meals and when drinking anything but water. This will also allow the wearer to brush their teeth and clean the aligners before replacing them over their teeth. It's important to follow the directions of your dentist to ensure you keep up with proper care throughout the procedure. But if you wear them around the clock outside of meals and dental hygiene times, proper maintenance is a breeze. 
They're Practically Invisible 
Unlike metal or even clear braces, Invisalign aligners are truly clear. That means there are no brackets, elastic bands, or other parts of the procedure that will pull attention away from your smile. So no one needs to know about your dental needs unless or until you're ready to share that information. Invisalign is great for teens and adults alike, but the clear aligners are especially beneficial for social events and work needs where the patient is regularly being captured in live video, in pictures, in high-demand business relations, or otherwise in the public eye. The aligners need to be worn for at least 22 hours daily to be effective. So you can even remove them when you're out with friends for a short period or on a date if you don't want them to know you're wearing Invisalign. 
Fewer Dental Appointments 
Traditional braces require ongoing adjustments. These can often be painful or uncomfortable since they can include tightening, readjustments, abrupt cleaning, and even cement removal and applications. Invisalign also requires checkups, but usually for painless aligner fittings. Most of the time, your orthodontist will just want to make sure the procedure is progressing properly. While Invisalign appointments may still be required at first every month or two, many patients only have to visit their dentist a few times during their entire treatment. Fewer visits can equate to less dental-related stress. Consider us for your cosmetic dentistry in Chandler, AZ needs, and we'll help you decide if Invisalign is right for you.